Integrated Circuit System-On-Chip And System-In-A-Package For Visible Light Communications And Navigation
Tech ID: 32653
/ UC Case 2014-812-0
Patent Status
United States Of America
Issued Patent
10,244,590
03/26/2019
2014-812
Full Description
Background
Wireless Visible Light Communication (VLC) is enabled by Light Emitting Diodes (LED) and their ability to switch on/off at tens of MHz without flickering. Visible Light Communication offers significant advantages over Radio Frequency (RF) based wireless communication.
Optical spectrum offers a bandwidth upto 300 THz thereby allowing for streaming at multiple gigabits per second.
Data rates can be boosted with more emission power without harm to human beings.
Unable to penetrate walls, VLC is inherently secure.
Being interference free, VLC can co-exist with and complement existing RF technology.
VLC devices are inexpensive compared to multi-gigahertz RF devices.
Current VLC systems are essentially a Lego-type testbed that have significant disadvantages. These include:
Large size and complex electronics.
Low performance, low reliability and high cost.
Current Invention
Prof. Wang at UCR has developed a patented, system-in-a-package (SIP) and system-on-a-chip (SoC) architecture for VLC that integrates all the electronic circuits with the LEDs and photodetectors (PD) to make VLC and Visible Light Positioning (VLP) systems with integrated opto-electronics.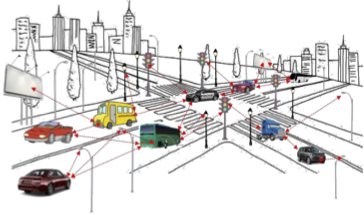 A VLC-based Ad Hoc smart traffics system scenario.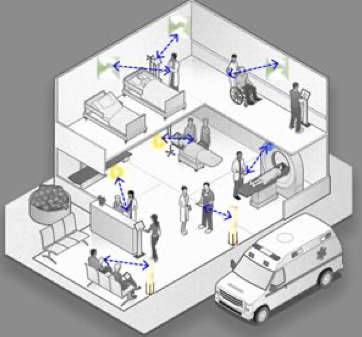 Illustration of an LED-based VLC system scenario for smart hospitals using a given hospital layout.
Advantages
The novelty and benefits of this design and architecture are:
Small footprint and low cost.
Very high performance and reliability.
With integrated Orthogonal Frequency Division Multiplexing (OFDM), larger LED array and demultiplexer, the design will offer better signal quality and wider bandwidth.
A larger PD array combined with CMOS/CCD imager offers higher data rates.
Low voltage differential signaling (LVDS) removes background noise.
Suggested uses
Smart cities
Smart wireless communication in:

RF prohibited hospital setting
Smart traffic control, car-to-car collision avoidance and signal data broadcasting
Home/Office with higher security, bandwidth, and data rate
Retail/Store setting

Ubiquitous energy efficient computing & Greener broadband wireless communication
Video streaming over light
Smart locks
State Of Development
Prototype built and tested
Related Materials