Direct Assembly Of Hydrophobic Nanoparticles Into Multifunctional Structures
Tech ID: 32613
/ UC Case 2011-450-0
Patent Status
United States Of America
Issued Patent
9,393,539
07/19/2016
2011-450
Full Description
Background
Multifunctional particles in the micrometer or sub-micrometer scale that exhibit two or more different properties are highly desirable for many technological applications ranging from catalysis and energy to multimodal imaging, detection and simultaneous diagnosis and therapy. By organizing different types of nanoparticles together, it not only allows the utilization of the size and shape dependent properties of individual nanoparticles but also takes advantage of the new properties resulting from the interactions between neighbours.
Conventional methods for assembly are limited by challenges such as:
The resulting nanostructures retain their hydrophobic character and are not water soluble and therefore require additional steps to ensure water dispersability.
Ligand exchange processes either cause a decrease in efficiencies, or lead to aggregation and precipitation of the nanoparticles or require additional surface treatment steps.
Current Invention
At UCR, inventors have developed a general and powerful self-assembly method for the fabrication of multifunctional composite nanostructures. The simple assembly process allows great flexibility in incorporating multiple nanoparticle components and on hosts with more complex morphologies.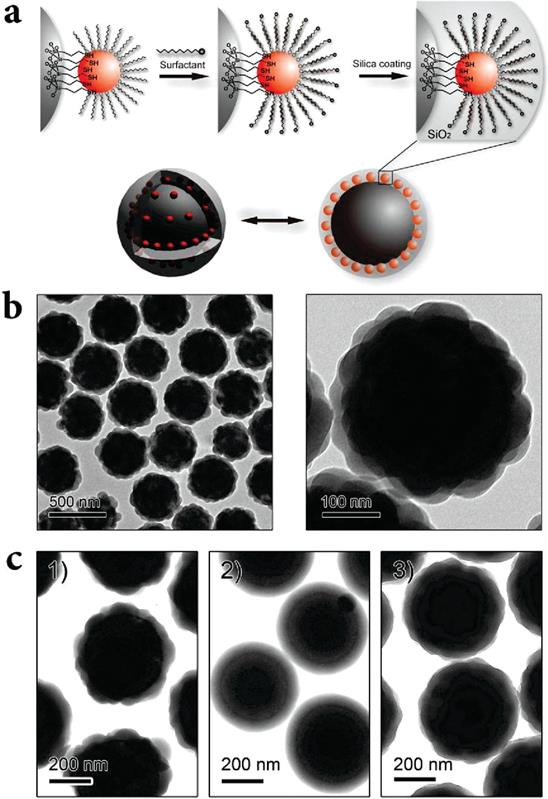 Picture shows (a) the schematic illustration for the approach for transferring nanoparticle capped (3-mercaptopropyl) trimethoxysilane (MPS) spheres from oil to water by forming bi-layer structure and subsequent silica coating; (b) TEM images of low and high magnification of silica coated y-Fe2O3 nanoparticle-capped MPS spheres synthesized in the presence of sodium dodecyl sulfate. The y-Fe2O3 nanoparticles were originally protected by oleic acid; (c) TEM images of MPS spheres capped with various nanoparticles and then surface coated with silica in the presence of SDS surfactant (1) MPS@Au@SiO2, (2) MPS@TiO2 nanorods @SiO2 and (3) MPS@ZrO2@SiO2. The Au (gold) particles were originally protected by dodecylamine (C12N), TiO2 (titanium dioxide) nanorods by oleic acid and ZrO2 (Zirconium dioxide) nanodots by (trioctylphosphine oxide (TOPO)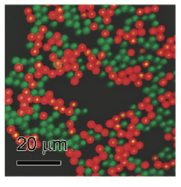 Picture above shows a confocal optical microscopy image of 3.5m m spheres loaded with quantum dots of two different types.
Advantages
Highly versatile and configurable
Scalable and reproducible.
Allows for the preparation of various multifunctional and multilayer structures.
Process can be easily extended to the assembly of hydrophilic nanoparticles with minimal modifications.
Suggested uses
Catalysis
Energy harvesting and transformation
Multimodal imaging
Detection and simultaneous diagnosis and therapy
Related Materials
Inventions by Prof. Yadong Yin
Please see all inventions by Prof. Yadong Yin and his team at UCR