Bicontinuous Composite Nano-Mm Sized Particles, 1D, 2D And 3D Structures For Impact Resistance And Energy Dissipation
Tech ID: 32625
/ UC Case 2020-201-0
Full Description
Background
Materials with unique architectures that can absorb significant amounts of energy from high strain rate impacts are needed in many applications from aerospace or automotive applications to sports or personal protective gear. Ballistic and other high strain rate impacts often present detrimental damage to multiple structures. Penetration or shattering of the underlying structure in these impacts can be catastrophic. Coatings applied to add an extra layer of protection do not protect well against high impact forces. Solutions that include inorganic particle coatings offer some energy absorption. However, in the case of high strain rate impacts, more damping and energy absorption are needed.
Current Invention
Prof. David Kisailus and his team conducted studies of the outermost impact surface from the club of the mantis shrimp, which demonstrates incredible resistance to failure upon impacts greater than 300N of force at accelerations of more than 100,000 m/s2. This inspiration has led to the development of a material and architectural design that absorbs significant amounts of energy. The design aspects include a particle with a bi-continuous network of stiff material inter-dispersed with a compliant matrix. This designed particle, upon high strain rate impact, will undergo deformation, yet maintain high stiffness.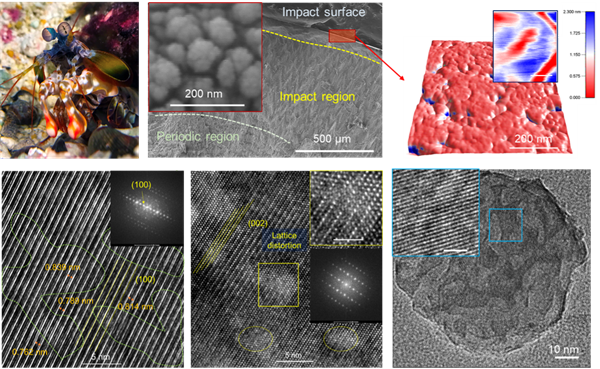 Nanoparticles on the impact surface of the mantis shrimp dactyl club (Upper images). Lower left and middle high resolution micrograph showing protein and chitin organic phases interpenetrated with a hydroxyapatite network. Lower right showing inorganic network after high temperature treatment, indicating intact and porous framework of the hydroxyapatite phase.

Energy dissipation mechanisms of the bicontinuous particles. Left and middle micrographs show particle breakage and fiber bridging after high strain rate impacts. Right high resolution micrographs show dislocations and amorphization induced by impacts.
Advantages
More impact resistance, energy dissipation and damping.
Impact penetration depth is reduced by at least 50% with an ultra-thin layer of coating (~70m m).
Multiscale energy dissipation mechanisms that help to mitigate catastrophic failure.
Materials can be used interchangeably and as needed for the application.
Suggested uses
Structural materials for aerospace and automotive composites.
Sports or personal protective gear.
Military armor
Building panels that absorb impact
Patent Status
Patent Cooperation Treaty
Published Application
2022026215
02/03/2022
2020-201