Simple Low-Cost Battery Electrode Alternative
Tech ID: 31735
/ UC Case 2016-350-0
Background
In lithium-ion batteries, the anodes are typically made from graphite. There is potential for the use of silicon as an alternative to graphite, however bare silicon particles exhibit poor chemical stability with the most common electrolyte formulations. This causes the formation of an unstable solid electrolyte interphase, leading to a fast capacity fade and poor cycling stability of the electrodes. An improved formulation of silicon would greatly enhance its use as a replacement for graphite anodes in lithium ion batteries.

Brief Description
Prof. Mangolini and his colleagues from the University of California, Riverside have developed a novel silicon-tin nanocomposite that may be used as anodes for lithium ion batteries. Commercial silicon particles and off-the-shelf additives such as tin dichloride are used due to their low material cost, and have shown good performance in both capacity and stability. These hybrid structures show a dramatic improvement compared to those prepared with silicon alone. Measurements suggest that these composites have an overall lower active layer resistance compared to a silicon-only case. This avoids the formation of electrical "dead spots", and enables the full utilization of the active material. The effectiveness of this simple, low-cost approach suggests that if used in combination with more advanced structures, it may be provide the critical improvement necessary to finally realize a silicon-based next-generation anode.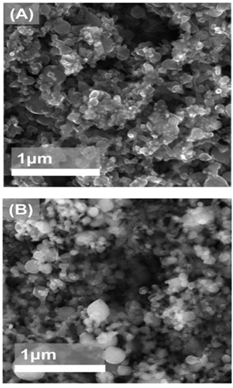 Fig 1: (A) Top-down SEM of the active layer after coating and annealing, without the addition of the tin precursor (B) Same as (A), but with the addition of the tin precursor.
Applications
To replace graphite anodes in lithium-ion batteries for improved battery capacity and stability
For use in electrochemical energy storage systems

Patent Status
United States Of America
Published Application
20190173077
06/06/2019
2016-350
Related Materials