Artificial cornea implant using nanopatterned synthetic polymer
Tech ID: 27153
/ UC Case 2016-278-0
Brief Description
Corneal blindness accounts for 50% of blindness in developing countries and artificial corneas need in scenarios in which a donor cornea is unusable or unavailable. Artificial corneas suffer from a myriad of problems ranging from mechanically weak corneas at junction sites to the necessity of lifetime antibiotic administration for the patient. This technology is a one piece artificial cornea that is biocompatible, durable and naturally antimicrobial/antibacterial.
Full Description
Artificial corneas are necessary in cases in which donor corneas are not available or usable. Upon implantation, there needs to be a delicate balance between protecting the corneal device from overgrowth of host cells (to maintain corneal transparency) and promoting host-cell integration. Current strategies to achieve this balance involve using chemical coatings or "porous" patterns to achieve the appropriate level of cellular adhesion. Neither of these solutions are ideal because chemical coatings can decompose over time while "porous" patterns are difficult to manufacture consistently. This technology utilizes nanopatterns to create a mixed cellular adhesion environment that will both promote and deter cellular adhesion on an artificial cornea.
The single-piece artificial cornea is made from already FDA approved materials that are known to be biocompatible. Unlike other artificial corneas, this implant has no material junctions, making the device mechanically stronger and not subjectable to adhesive failure. This artificial cornea will consist of an optic zone and a peripheral skirt. Precisely defined nanoscopic features can be etched onto the surface of the implant such that host cell adhesion will not be deterred at the optic zone while promoting adhesion and integration at the peripheral skirt. Another important aspect of this technology is that patients receiving this implant will not require lifetime administration of antibiotics as the nanopatterns provide antimicrobial and antibacterial properties to the artificial cornea.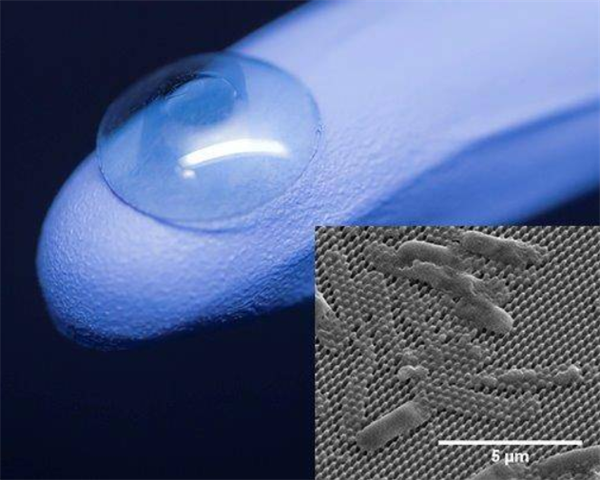 Suggested uses
Corneal prosthesis
Antimicrobial and antibacterial applications
Advantages
· Hard polymer material enables durability of cornea and promotes ease of implantation
· Nanopatterned surface decreases the risk of bacterial infections and prevents overgrowth of host cells
· One piece design deters adhesive failure that would arise from different materials being assembled by adhesives
· Lack of an interface between different materials prevents corneal injury ("corneal or stromal melting")
· Patients do not need require lifelong administration of antibiotics
Patent Status
Patent Cooperation Treaty
Reference for National Filings
2017156460A1
09/14/2017
2016-278
Patent Pending
State Of Development
In progress
Related Materials