Hybrid Approaches For Enhanced Energy Storage Devices And Methods Of Making And Using There Of
Tech ID: 32647
/ UC Case 2013-406-0
Patent Status
United States Of America
Issued Patent
10,163,583
12/25/2018
2013-406
Full Description
Background
Compared to batteries, supercapacitors offer high power density and longer cycle lifetime. Carbon nanotubes are an optimal option for supercapacitor applications because of their increased surface area, high conductivity and stability under electrochemical conditions. Paper based electrodes offer significant advantages such as:
Low cost
Light weight and higher flexibility
Binder free process
No need for an extra current collector
Current Invention
The research team led by Prof. Cengiz Ozkan have successfully developed a patented, Graphene Oxide (GO) and Single Walled Carbon Nanotube (SWCNT) composite ink for convenient fabrication of electrochemical supercapacitors.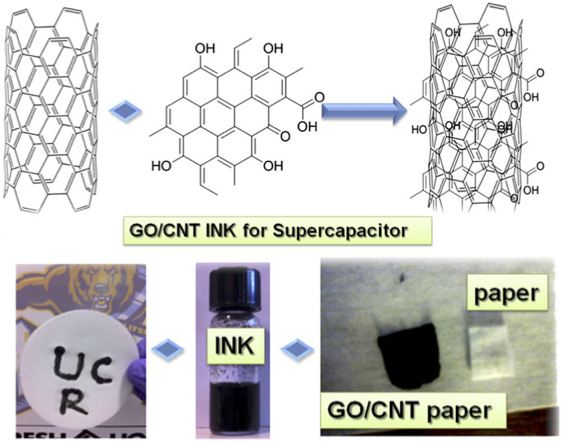 Schematic of non-covalent interaction and preparation of supercapacitor electrodes with GO/SWCNT ink and paper.
Advantages
The novelty and benefits of their invention are:
Low cost roll-to-roll fabrication method of double layer capacitors without the need for binders or additives.
Convenient and scalable method.
The composite ink is easily patterned and applied to paper.
High relative, high gravitational specific capacitance.
Highly stable electrode material over long cycling.
85% capacitance retention after 60,000 charge-discharge cycles.
Suggested uses
Supercapacitors.
Electrochemical energy storage
Related Materials