New Recycling Methods For Li-Ion Batteries
Tech ID: 33149
/ UC Case 2022-855-0
Brief Description
Prof. Juchen Guo and his research team have discovered novel methods that use a liquid reagent to extract close to 100% of the metals lithium (Li), cobalt (Co), nickel (Ni) and manganese (Mn) from LiCoO2 (LCO) and LiNixMnyCo(1-x-y)O2 (NMC) cathodes, efficiently. This low cost process is easy to implement, scale up, low cost and is environmentally friendly.
Full Description
Background
With the rapid adoption of lithium-ion battery (LiB) technologies, their recycling is also becoming an urgent demand both economically and environmentally. Currently, methods for recycling use either pyrometallurgy or hydrometallurgy. Pyrometallurgy is thermally agressive and requires high energy consumption. Hydrometallurgy methods use organic or inorganic acids to leach the cathode materials. The corrosive reagents are both hazardous and harmful to both people and to the environment.
Technology
Prof. Juchen Guo and his team, at UCR, have discovered methods with a liquid reagent that extract Li, Co, Ni and Mn from LCO and NMC cathodes. In this discovery, the LCO and NMC cathodes dissolve in the reagent and produce a supernatant and a precipitate. Processing the supernatant with mild reagents and at mild ambient conditions allows the extraction of Li, Co, Ni and Mn. Close to 100% of the metals are extracted efficiently with this process.
Image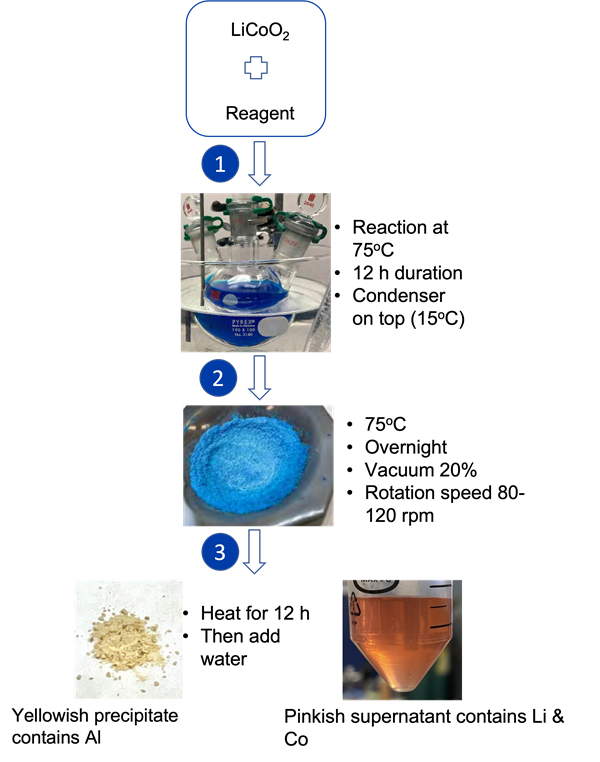 Schematic representation of the lithium-ion battery recycling process
Advantages
The significant benefits and uniqueness of this invention are:
A low-cost process that is easy to implement and straight forward to scale up.
Requires low energy consumption.
Green solvent that has high leaching efficiency and is environmentally friendly.
No reducing agent required.
99% of Li, Co, Ni and Mn are extracted.
Proven extraction with both LCO and NMC LiBs.
Application
Eco-friendly recycling of lithium-ion batteries
State Of Development
The inventors have developed and demonstrated the technology in the lab.
Currently, they are optimizing and scaling up the technology through a proof-of-concept grant.
Inventor Information
Please visit Prof. Guo's lab website to learn more about their research
Patent Status
Patent Cooperation Treaty
Published Application
WO 2023/091287
05/25/2023
2022-855