A Tunable Deep Uv Photochemical System To Destruct Contaminants Including Per-/Poly-Fluorinated Chemicals (Pfas) From Water
Tech ID: 32868
/ UC Case 2022-894-0
Patent Status
Patent Pending
Full Description
Background:
Per and Polyfluoroalkyl substances (PFAS) are man-made chemicals that are used in industry and consumer products. The most common of these contaminants are perfluorooctanoic acid (PFOA) and perfluorooctane sulfonic acid (PFOS). U.S. EPA has just issued a new health advisory level, which is 0.004 ppt (ng/L) for PFOA, 0.02 ppt for PFOS. Conventional chemical oxidation and reduction processes and biological transformation are not effective for PFASs and many emerging contaminants. Advanced redox process driven by UV light need chemicals such as sulfites and produce secondary contaminants.
Technology:
Researchers led by Prof. Haizhou Liu at UCR, have invented a patent pending, deep UV photochemical system that leverages the energetic photons and green solutes to boost the degradation and mineralization of PFAS and other contaminants in drinking water and wastewater. Tuning the deep UV photochemical systems with electron-donating solutes dramatically accelerates the degradation and defluorination of PFOA.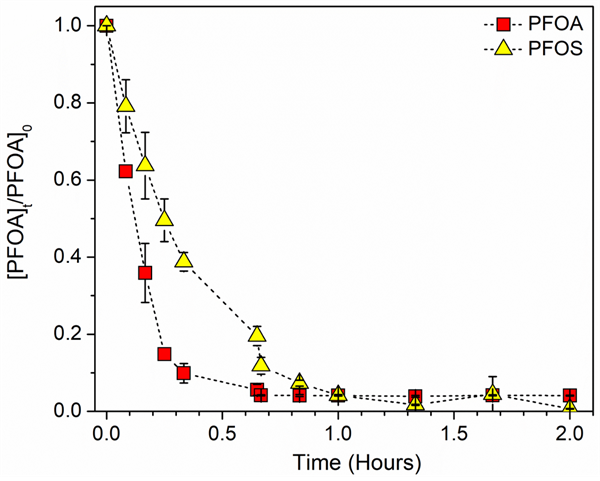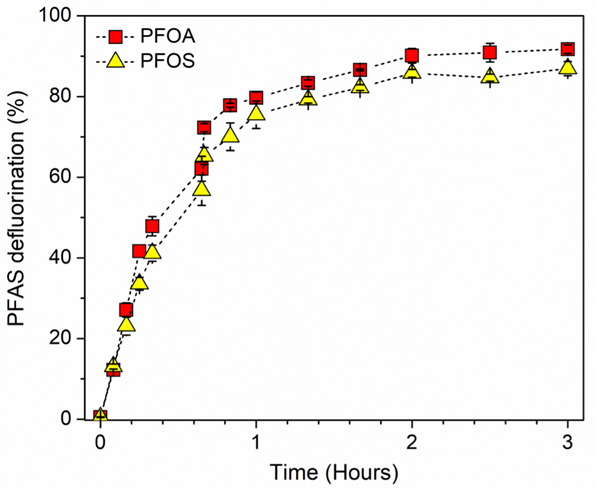 Impact of electron donors on degradation and defluorination of PFOA and PFOS under the irradiation of UV light. [PFOA] or [PFOS] = 25 uM.
Advantages
The UV photochemical system uses only water and common water constituents and does not need additional chemical amendments.
The end products does not include any secondary contaminants.
Faster reaction kinetics for degradation and defluorination of PFOA and PFOS.
Lower energy consumption.
Achieves more complete defluorination.
Suggested uses
Point of use, residential drinking water system
Municipal water treatment
Water recycling and reuse
State Of Development
Currently, it is at the end of the experimental stage where more data are being collected to evaluate the efficacy of this technology for PFAS treatment under different water chemistry parameters and other types of contaminants.
Related Technology
Please see all water treatment technologies at UCR