Potent and Effective Anti-Metastatic EphA2 Agonists
Tech ID: 32175
/ UC Case 2018-541-0
Background
Ephrin receptor A2 (EphA2) is a member of a receptor tyrosine kinases and its overexpression is invariably associated with poor prognosis and the development of a variety of aggressive metastatic cancers. Although EphA2 is a compelling target, the antibody-drug conjugate (ADC), MEDI-547, failed clinical trials due to adverse side effects. The side effects included bleeding and liver dysfunction and this may be due to the long half-life of the antibody which drives the ADC metabolism and excretion through the liver, gall bladder and gastrointestinal tract.
However given the pivotal role of EphA2 in tumor growth, angiogenesis, cancer drug resistance, and metastasis, EphA2-targeting agents that are not ADCs or peptide-drug conjugates may be developed as cancer therapeutics or diagnostics with less side effects. In addition, agonistic EphA2 agents can be used as effective anti-metastatic therapeutics, inhibit cancer cell migration and invasion.

Brief Description
Prof. Maurizio Pellecchia and his colleagues at the University of California, Riverside have developed peptide-based EphA2 agonistic agents that have nanomolar activities. These agents, having the same mechanism of action as the natural (ephrinA1-Fc) ligands, effectively degrade EphA2 receptors and delay cell migration in key cancer cell lines. These agonistic agents may be effective therapeutics that may result in less unwanted side effects that have been observed in the clinic with ADCs targeting EphA2.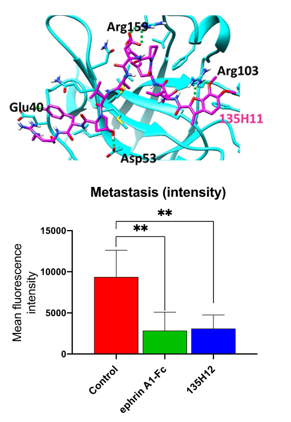 Fig. 1 Top, X-ray structure of EphA2 in complex with UCR agent.. Bottom, Treatment with ephrinA1-Fc or UCR agent 135H12 on an orthotopic mouse model of prostate cancer with PC-3-GFP cells (n = 5 mice per treatment group). The mean fluorescence intensity related to metastases detected at day 7 from mice in each group, control (the solvent formulation used for 135H12), ephrinA1-Fc treated, 135H12 treated. Error bars represent standard deviation. ** p < 0.01.
Application
Peptidomimetic agonists may be developed as cancer therapeutics, as targeted delivery agents for chemotherapy, or as diagnostics

Patent Status
United States Of America
Published Application
2021-022184
07/22/2021
2018-541
Patent Cooperation Treaty
Published Application
2019237075
07/02/2020
2018-541
Related Materials