Improved Plant Regeneration Method Using GRFs, GIFs or Chimeric GRF-GIF Proteins
Tech ID: 31641
/ UC Case 2019-562-0
Abstract
Researchers at the University of California, Davis and the Institute of Molecular and Cellular Biology of Rosario in Argentina have collaborated to develop methods for improving plant regeneration efficiency using transformations via a GRF, a GIF, or a GRF-GIF chimera.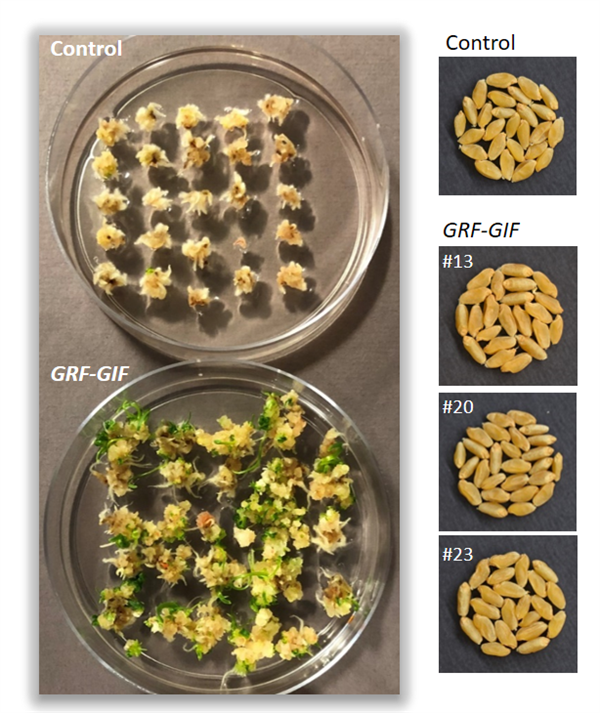 Full Description
Gene editing has revolutionized the development of new plant varieties. Unfortunately, many important crops species exhibit prohibitively low regeneration efficiencies and are therefore incompatible or minimally compatible with gene editing. There is, therefore, a significant need to improve plant regeneration.
Researchers have collaborated on methods for improving plant regeneration efficiency that apply various Growth-Regulating Factors (GRF), GRF-Interacting Factors (GIF) or GRF-GIF chimera to transformed plant cells. These methods dramatically increase regeneration efficiency, reduce the time required to regenerate transgenic plants and can eliminate the need for plant selectable marker genes.
Applications
Greatly increases regeneration efficiency in several plant varieties

Accelerates the production of transgenic plants from leaf explants instead of embryos

Increases the range of genotypes capable of being transformed efficiently
Features/Benefits
Increases regeneration frequency of various crops with previously low transformation capacities

Eliminates exposure to exogenous cytokinins required by many plant transformation systems
Patent Status
Patent Pending