Anticipatory Lane Change Warning Using Dsrc
Tech ID: 32690
/ UC Case 2018-556-0
Patent Status
United States Of America
Issued Patent
11,027,736
06/08/2021
2018-556
Full Description
Background
Anticipatory driving or adapting one's driving behavior in anticipation of movements of surrounding vehicles is important in the prevention of road accidents – which could be coded into the behavior of connected and automated vehicles. Anticipatory driving continues to be extensively researched. In a lane change scenario, the future situation of the target lane is also important. One limitation of existing lane change algorithms is that they tend to consider the traffic situation only in terms of the lane changing or Host Vehicle (HV). However, a normal lane change takes a few seconds to complete during which time the situation may change significantly.
Current Invention
The research team at the UCR Center for Environmental Research and Technology has developed a patented system called Anticipatory Lane Change (ALC) Warning. The algorithm combines connected vehicle technologies such as Dedicated Short Range Communications (DSRC) with a car-following model along with the kinematics to predict the motions of the ALC equipped vehicle and its surrounding vehicles over a short time window. In addition to recommending lane changes, the algorithm predicts unsafe conditions to prevent the lane change or abort the lane change maneuver. The team has tested the algorithm in simulation, for a hypothetical network as well as a real-world freeway network with rush hour traffic – with impressive results of 30% reduction in the number of potential roadway accidents.
Results from a hypothetical network of 7,000 vehicles per hour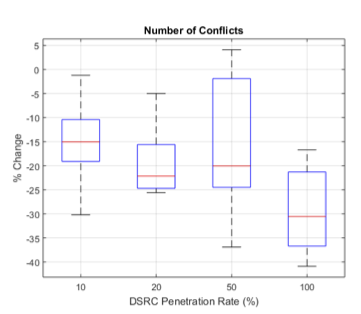 Results from a simulation of traffic on I-270 in Ohio
Advantages
The significant advantages of their invention are:
Does not have line of sight (LOS) limitations and can detect vehicles occluded by other vehicles.
Predicts the safety of an intended lane change a few seconds in advance of the lane change.
Useful for both lane change warning and automated lane change.
Low impact on mobility of motorists – less than 1% change in average speed.
Suggested uses
Personal vehicles
Autonomous vehicles
Commercial Transportation
Shipping and logistics - fleet vehicles
State Of Development
Prototype built and tested
Related Inventions
Related Materials