Synthetic Biology Methods and Systems to Synthesize Strigolactone
Tech ID: 32544
/ UC Case 2021-817-0
Background
Strigolactones (SLs) are identified as a novel class of plant hormones that control shoot branching, leaf growth and senescence, and promote the formation of lateral root and growth of primary root. SLs thus have been considered as a promising agrochemicals tool for applications such as biostimulants and is newly undergoing development as a medical tool. However, SLs are typically difficult to synthesize in large enough quantities for agrichemical applications.

Brief Description
Prof. Yanran Li and colleagues from the University of California, Riverside have developed a biosynthetic method for producing different strigolactones by designing different biosynthetic pathways in engineered microbial systems. The invention includes engineered E. coli - S. cerevisiae co-culture systems for the biosynthesis of both non-canonical and canonical SLs, including but not limited to carlactone (CL), carlactonic acid (CLA), 5-deoxystrigol(5DS), 4-Deoxyorobanchol (4DO) and orobanchol. This technology allows SLs to be biosynthetically produced in large scale for use in innovative agrochemicals such as phyto-regulators, fertilizers, biostimulants that enhance the nutrient uptake efficiency.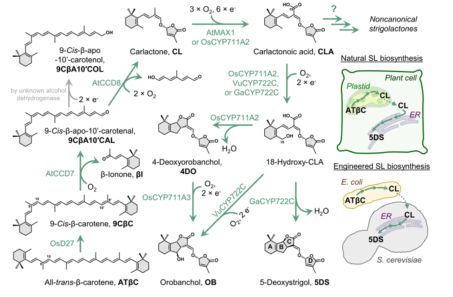 Fig 1: Mimicking plant strigolactone pathway distribution in the engineered E. coli-S. cerevisiae coculture.

Applications
For use to scale agrochemical products such as biostimulants and fertilizers
For use to scale strigolactones as an anti-carcinogen in fields like medicine and biotechnology

Patent Status
Patent Pending
Related Materials