Seamless Ceramics for Biomedical Applications
Tech ID: 32364
/ UC Case 2015-938-0
Background
A basic requirement for implantable biomedical devices is long-term biocompatibility of the packaging materials and leakproof, hermetic seals. Today's implant seals are based on sealing dissimilar materials (for example, ceramic-metal) using materials with inferior biocompatibility and mechanical strength. There is a need to create seamless ceramic packages for encapsulating hermetically enclosed electronics that are biocompatible. Such packages are useful for medical device applications.

Brief Description
Prof. Guillermo Aguilar-Mendoza and his colleagues from the University of California, Riverside (UCR) and Prof. Javier Garay and his colleagues from the University of California, San Diego have developed an all ceramic, biocompatible, hermetically sealed package for encapsulating electronics. This technology uses disparate transparent polycrystalline ceramics and is sealed by laser. The laser directly joins the disparate surfaces, protecting the electronic device from damage while ensuring a high-quality seal. This state-of-the-art technology provides superior packaging for biomedical implant devices that has long-term biocompatibility. It also provides safe and leak-proof seals.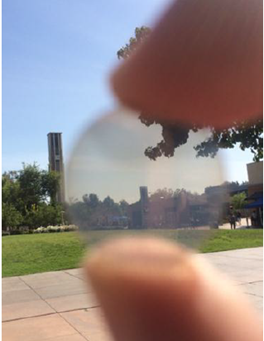 Fig 1: Picture of transparent ceramics fabricated at UCR.
Applications
For use as a packaging material for biomedical implants like pacemakers and for future medical technologies like optogenetics.

Patent Status
Patent Pending
Related Materials