Foliar Formulation to Protect Plants from Abiotic Stress
Tech ID: 31998
/ UC Case 2016-942-0
Background
Abiotic stress such as cold, drought, and salt largely influences plant development and crop productivity. Plant abiotic stress leads to accumulation of reactive oxygen species (ROS) and a consequent decrease in photosynthetic performance. Crops with enhanced oxidative stress protection may lead to maximized yield and tolerance to excess light, heat, salt stress, and other types of abiotic stress.
Brief Description
Prof. Juan Pablo Giraldo and his colleagues from the University of California, Riverside have developed a foliar formulation for increasing crop protection and photosynthetic performance when crops are under light, heat, and salinity stress. This is achieved by applying a nanomaterial (poly (acrylic acid) nanoceria, PNC) that interacts with plant chloroplasts to reduce abiotic stress.
The nanoparticle formulation uses a novel, scalable and biocompatible approach to protect plant seeds, seedlings, and mature plants from stress. The emerging field of nano-enabled agriculture has the potential to create crops that are protected from climate change induced stresses and have enhanced photosynthesis.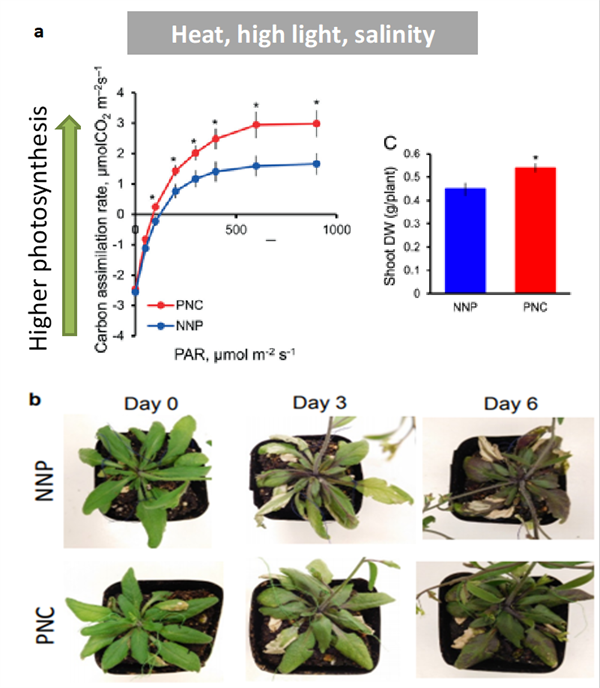 Fig 1: a, Nanoceria (PNC) increases photosynthesis and biomass in Arabidopsis plants under stress. No nanoparticles (NNP) are shown as control. b, Substantial damage to Arabidopsis plants exposed to excess light was mitigated by PNC.
Suggested uses
To maximize crop yield and increase crop resistance to damage caused by abiotic stress

Patent Status
United States Of America
Issued Patent
10,798,938
10/13/2020
2016-942
Related Materials