Novel Steroid Hormone Assay
Tech ID: 29948
/ UC Case 2017-157-0
Background
Steroid hormones regulate diverse biological processes. Both mammalian puberty and insect metamorphosis are triggered by steroid hormones. Manipulating steroid hormones prior or during metamorphosis may control pest insects.

Brief Description
Researchers at the University of California have identified in insects that the membrane transporter, Ecdysone Importer (EcI), is involved in the cellular uptake of the primary steroid hormone ecdysone. Specifically after transport through Ecl, ecdysone's active form (20-hydroxyecdysone or 20E and related ecdysteroids) enters its target cells and binds to the ecdysone receptor (EcR), which forms a heterodimer with another nuclear receptor and activates transcription of multiple genes involved in molting and metamorphosis.
This new discovery of Ecl's role counters the prevailing consensus that steroid hormones diffuse through cell membranes. This will enable the screening of new compounds that interact with Ecl. Such new compounds may be used for insect pest control.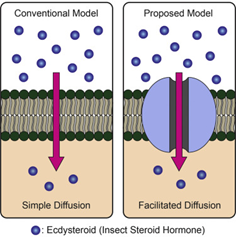 Fig. 1 membrane transporters (blue) guide steroid hormones (blue dots) into cells. This new discovery counters the conventionally held scientific consensus that steroid hormones passively diffuse through cell membranes.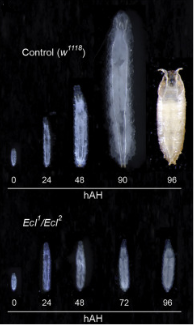 Fig. 2 EcI mutants (bottom) were not able to enter into metamorphosis when compared to the control (top).

Applications
A new assay to screen for chemical compounds that regulate hormone activity in insects and mammals.
Compounds identified from screens may be used for insect pest control.

Related Materials
Patent Status
United States Of America
Issued Patent
10,228,380
03/12/2019
2017-157