Therapy For Edema Reduction
Tech ID: 21125
/ UC Case 2010-962-0
Brief Description
TBI is the foremost cause of morbidity and mortality in persons under 45 years of age worldwide, and accounts for a larger number of casualties in combat in Iraq and Afghanistan than in any other recent U.S. war. After TBI, many patients experience a delayed rise in intracranial pressure due to cerebral edema, leading to reduced cerebral blood flow, brain herniation, and death. UCR's Professor Victor Rodgers and his collaborators have developed a novel process for direct treatment and reversal of brain edema.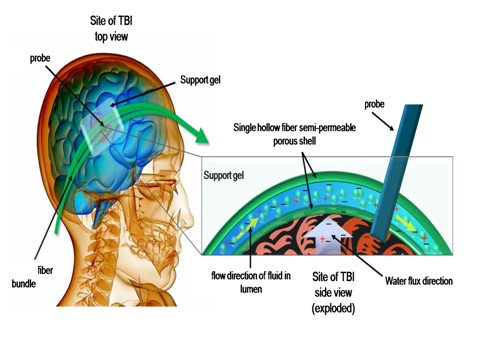 This new technique exploits the inevitable osmotic pressure that is generated during transport of proteins or polymers across a semi-permeable membrane in the presence of aqueous systems.
A significant amount of long-term morbidity associated with TBI can be prevented if more effective therapies to minimize cerebral edema such as this could be developed, both for use in the combat field and in civilian hospitals.
The mission of UCR's Office of Technology Commercialization (OTC) is to insure that research results are made available for public use and benefit. For this purpose, OTC is currently marketing this technology to industry.
Patent Status
United States Of America
Published Application
20150141950
05/21/2015
2010-962