New Substrate to Enhance Catalytic Activity
Tech ID: 30446
/ UC Case 2019-110-0
Background
The development of catalysts for applications like olefin metathesis have been revolutionary in promoting green chemistry for industrial and commercial applications. Specifically olefin metathesis are cost-effective and easily scalable. Methods and substrates to enhance the activity of metathesis catalysts are desirable.

Brief Description
Researchers at UCR have developed a sulfated zirconium oxide substrate containing strong Lewis acid sites to enhance the activity and selectivity of heterogeneous catalysts. As seen in Fig 1, this new heterogeneous catalyst significantly increases catalyst activity compared to a known olefin metathesis catalyst in homogeneous solution.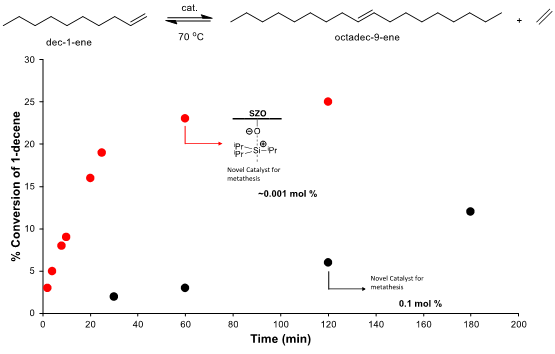 Fig. 1 shows the catalytic activity for the UCR supported catalyst (red dots) at ~0.001 mol % loading in the metathesis of 1-decene. The black dots are metathesis activity of the same catalyst unsupported catalyst in solution at 0.1 mol%.
Applications
This substrate may be used to enhance the activity of known catalysts.

Related Materials
Patent Status
United States Of America
Published Application
20200079802
03/12/2020
2019-110