Brief Description
Traditional methods for fabricating nano- to micro- features involve expensive and time-consuming processes such as electron-beam lithography, colloidal lithography, electrospinning, and nanoimprinting. Researchers at UC Irvine have invented a process that integrates photolithography onto thermoplastic shrink film to reduce the size achievable with conventional methods. Using this method, a variety of patterns can be formed, such as channels, molds, wells.
Full Description
Microfabrication techniques developed originally for the microelectronic industry have allowed researchers to create simple designs such as well-defined and repetitive patterns of grooves, ridges, pits, and waves. Techniques such as photolithography, electron-beam lithography, colloidal lithography, electrospinning, and nanoimprinting are popular methods for fabricating micro and nano topographical features. Continual miniaturization of feature size is desired, however these processes become increasingly expensive and time-consuming with decreased feature size. This prevents widespread adoption of these fabrication methods in common biological laboratories.
Researchers at UC Irvine have demonstrated the ability to create reduced feature sizes by performing photolithography onto pre-stressed thermoplastic shrink film. The fabrication process involves printing a pattern onto the shrink film, shrinking the thermoplastic polymer to reduce the features of the printed pattern, and to using the resulting shrunk surface as a mask for photolithography. Photolithography is performed on a second shrink film polymer to create the complementary pattern and then shrunk again. The sequential shrink process results in even smaller features.
The inventors have used this technique to fabricate microlens arrays (MLAs) as shown in Figure 1. Conventional micromachining to fabricate MLAs is limited in its scalability. Innovative techniques such as thermal photoresist reflow, thermal ablation, and molding UV photocurable polymers to fabricate MLAs in polymers have been demonstrated, however these methods are either limited in resolution, slow and serial, and costly. Here the researchers showed that using the sequential shrink process, they were able to achieve a 99% reduction in area from the original pattern size. The shrink process also causes reflow of the patterning in, thereby allowing the user to obtain rounded features, which is difficult to achieve using traditional lithographic techniques.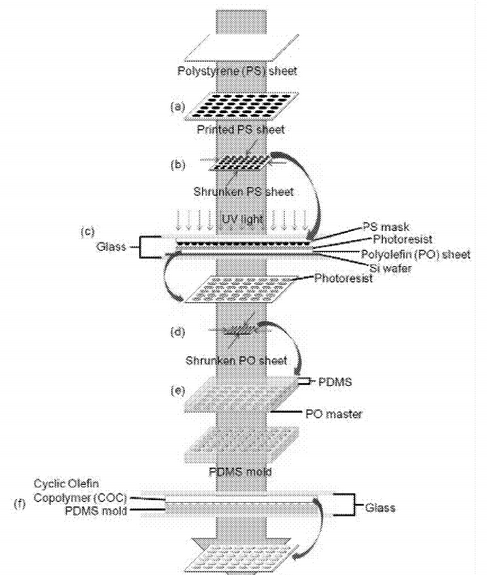 Figure 1 is a schematic of the process flow using sequential shrink process on thermoplastic polymer and integration of photolithographic processes for precisely defined pattern regions.
Suggested uses
This method can be used for fabricating patterns with reduced feature sizes, in particular, patterns with rounded edges such as channels or wells. This has applications in micropatterning and microfluidics.
Advantages
Because this method is amenable with standard photolithography processes, it can result in even smaller feature sizes with reduced cost due to the shrink process.
Patent Status
United States Of America
Issued Patent
9,625,819
04/18/2017
2011-303