Vaccines That Rapidly Induce Anti-Viral Immunity
Tech ID: 24414
/ UC Case 2013-522-0
Background
There are at least three challenges to developing vaccines. First, vaccines confer protection against infectious agents, by relying on adaptive immunity. The adaptive immune system, however, takes more than a week to develop a robust response. Second, vaccines are difficult to engineer because of the ever changing mutations in infectious agents. Third, some vaccines are not available for some viruses despite decades of research.
One of the challenges of increased globalization is the emergence of new infectious agents. Because of increased globalization and access to rural areas, the emergence of new pathogens is quickly increasing and new strategies are desperately needed to accelerate vaccine development and availability.

Brief Description
Prof. Shou-wei Ding and his colleagues at UCR have discovered that administering an attenuated virus lacking its functional viral suppressor of RNA interference ("VSR") rapidly and completely protected newborn and adult mice from infection by the wild type virus upon subsequent infection.
The UCR researchers tested a Nodamura virus ("NoV") modified without expressing its functional VSR protein, B2 (NoVΔB2). The modified virus, NoVΔB2, was administered to 6 day old suckling BALB/c mice. Two days later, these mice were injected with a lethal dose of wild-type (WT) NoV. While injection of WT NoV is lethal to 7-day old suckling mice, all of the mice inoculated with NoVΔB2 vaccine remained healthy and survived.
Vaccination with NoVΔB2 also induced full protection in newborn and adult Rag1-/- mice that lack an adaptive immune system.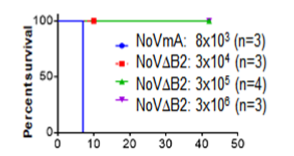 Fig: 1 shows that the modified Nodamura virus lacking its VSR (NoVΔB2) administered at three different doses conferred full protection to Rag1-/- suckling mice while the mice did not survive after vaccination with NoVmA, a mutant Nodamura virus attenuated by multiple mutations to weaken its replication.

Applications
The manufacture of a new class of vaccines against recalcitrant viruses
Vaccines that confer rapid immunity over days rather than weeks

Patent Status
United States Of America
Issued Patent
10,034,929
07/31/2018
2013-522