Transgenic Plants with Increased Tolerance for Stress and Pathogens
Tech ID: 11283 / UC Case 2000-285-0
Abstract
Transgenic Plants with Increased Tolerance for Stress and Pathogens
Full Description
X99 is an animal-derived gene. When expressed in plants, X99 confers markedly increased tolerance to both abiotic stress and pathogens.
Experimental results show that X99 plants are more tolerant to:
Heat stress
Salinity
Fungal infection and fungal toxins
Herbicides
Although they have greatly increased stress and pathogen tolerance, experimental X99 plants appear otherwise unaffected and develop normally. This gene could potentially be used to develop crops that are herbicide tolerant, pest-resistant, and which have increased vigor and yield under stressful field conditions.

The University of California owns US and related foreign patent applications claiming X99 and transgenic organisms expressing it. This intellectual property is available for licensing.
Images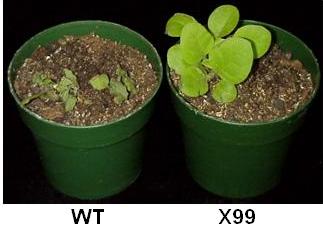 For example, X99 tobacco plants exposed to heat stress exhibited greatly increased survival and vigor compared to wild-type plants.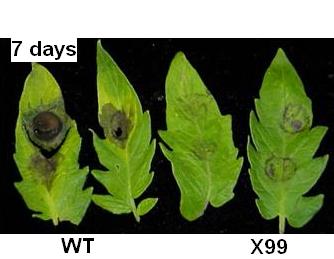 X99 tomato plants inoculated with Alternaria were better able to withstand the fungal infection than wild-type plants.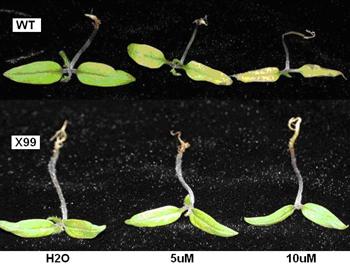 Similarly, X99 tomato seedlings better withstood exposure to fumosin B1, a potent fungal toxin.
Patent Status
Country
Type
Number
Dated
Case
United States Of America
Issued Patent
6,570,069
05/27/2003
2000-285
Inventors
Hammock, Bruce D.
Huang, Qihong
Maeda, Susumu
PEOPLE WHO VIEWED THIS ALSO VIEWED THESE TECHNOLOGIES BY OTHER INVENTORS