Highly Selective MMP-12 Antibodies
Tech ID: 32920
/ UC Case 2021-801-0
Background
Matrix metalloproteinase-12 (MMP-12), is a member of a family of potent inflammatory mediators and therefore an important pharmacological target. It's role in the pathogenesis of diseases like chronic obstructive pulmonary disease, emphysema, and asthma is well established. Studies have also shown MMP-12 contributes to the pathogenesis of neurological diseases like stroke, spinal cord injury, and multiple sclerosis. Highly specific MMP-12 inhibitors are desirable to treat the diseases described in this paragraph since broad spectrum MMP inhibitors in the past have failed clinical trials due to their off-target effects.
Brief Description
Researchers from the University of California, Riverside have developed potent monoclonal antibody inhibitors with high MMP-12 selectivity. These antibodies have applications in pharmaceuticals and biomedical sciences. Specifically, these antibodies may be developed as therapies for inflammatory and neurological diseases.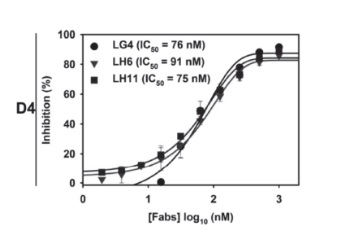 Fig 1: Inhibitory function of the MMP-12 antibodies LG4, LH6, and LH11 towards cdMMP-12.
Application
A potential therapy for inflammatory and neurological diseases.
Patent Status
Patent Pending
Related Materials