Anti-Influenza Small Molecule Therapy
Tech ID: 32855
/ UC Case 2020-250-0
Background
Influenza A and B viruses have caused several outbreaks in history, including the recent 2009 H1N1 influenza pandemic, and it causes a significant number of deaths every year despite significant advancements in our understanding of the viruses and the availability of vaccines and antiviral agents. SUMOylation enzyme inhibition, or gene knockout, decreases the replication of the influenza virus and an influenza SUMOylation therapy may be desirable.


Brief Description
Professor Jiayu Liao from the University of California, Riverside has identified small molecules that block the Influenza B virus (IBV) from replicating by inhibiting the SUMOylation pathway. This IBV virus replication inhibition works by using the novel SUMOylation inhibitor, STE025, to inhibit the SUMOylation of the IBV M1 protein. SUMOylation also has active roles in the pathogenesis of several diseases, such as tumorigenesis, neurodegenerative diseases and infections, and as such, this technology could potentially be applied to these types of diseases as well.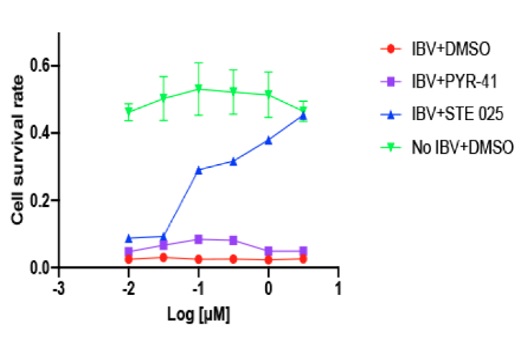 Fig 1: Cell death induced by IBV infection can be rescued by the UCR SUMOylation-specific inhibitor, STE025 (blue) compared to cells not exposed to IBV (green), and cells exposed to IBV without the UCR inhibitor (purple and red).
Application
Small molecule therapy to treat influenza.

Patent Status
Patent Pending
Related Materials