COVID-19 Risk Factor Biomarker and Prophylactic
Tech ID: 32382
/ UC Case 2021-826-0
Patent Status
Patent Pending
Background
As of December 2020, coronavirus disease (COVID-19), caused by SARS-CoV-2, has so far affected over 65 million individuals and killed over 1.5 million persons worldwide. Researchers have shown that elevated ACE2 expression and SARS-CoV-2 viral entry are mediated by increased epithelial JAK-STAT signaling. One of the current therapies to treat COVID-19 are JAK inhibitors.

Brief Description
Prof. Declan McCole and colleagues from the University of California, Riverside have identified a loss of function PTPN2 variant biomarker that may identify patients who are susceptible to SARS-CoV-2 infection. These patients have increased expression of ACE2, the receptor for SARS-CoV-2. Increased ACE2 has been tied with increased susceptibility to SARS-CoV-2. By identifying patients who are susceptible to SARS-CoV-2 infection, healthcare workers may reduce these patients' risk of infection by prophylactically administering JAK inhibitors.
Currently there is a debate in the medical community on whether or not patients should discontinue their JAK inhibitor therapies. Clinicians believe that JAK inhibitors could decrease a patient's immune response to fight COVID. However these new findings suggest that ACE2 expression is decreased in individuals on a JAK inhibitor therapy. The findings detailed in this section suggests that patients can maintain their JAK inhibitor treatment since it can reduce expression of the receptor required by SARS-CoV-2 to cause infection.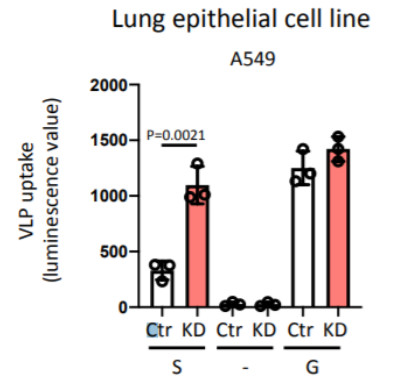 Fig 1: Lung epithelial cell line with PTPN2 knockdown (KD) facilitates entry of virus like particles (VLP) expressing the SARS-CoV-2 spike S protein. "(S)" is the SARS-CoV-2 spike protein with no additional protein. "(G)" is the positive control with the rhabdovirus vesicular stomatitis virus. 'Ctr' is the control lung epithelial cell.
Applications
A diagnostic to identify patients with an increased risk for SARS-CoV-2 infection.
A SARS-CoV-2 prophylactic
Patients on JAK inhibitors may reduce their risk for infection by reducing ACE2 expression

Related Materials