Improved SELEX Method to Screen for Aptamers
Tech ID: 32087
/ UC Case 2019-139-0
Background
Systematic Evolution of Ligands by Exponential Enrichment (SELEX) is a method that uses a tethered protein called the 'target' to capture molecules that bind to it, and the captured molecules are called 'prey'. In the case of DNA methyltransferase 1 (DNMT1), uncontrolled expression of the target, DNMT1, causes cancer. Finding prey that binds to DNMT1 reduces its expression and prey that reduces DNMT1 may be an effective cancer treatment. SELEX is limited by the fact that if a target is not in its natural conformation, it may skew the type of prey it captures.

Brief Description
Prof. Wenwan Zhong and colleagues from the University of California, Riverside have developed an Asymmetrical flow-field flow fractionation (AF4)- SELEX technology that is an improvement on SELEX. The main difference between AF4-SELEX and SELEX is that the untethered target would exist in its natural conformation, meaning that the target is more capable of catching aptamers functional under physiological conditions. Compared with current protein-based therapeutics, aptameric drugs are easier to be stored, handled, and modified to fit for medical applications; and can penetrate through biological barriers more easily, as well as possess much-reduced immunogenicity with low toxicity, presenting good promises for treatment of diseases like cancer.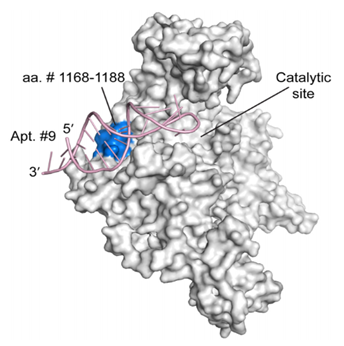 Fig 1: The structural model of human DNMT1 (728-1600) -Apt. #9 complex proposed based on the proteolysis result.
Applications
For use to identify aptamers for proteins with fragile structures and/or with large molecular sizes, such as important biological enzymes.
Its applicability has been proved in the discovery of aptamers that can bind and inhibit DNA methyltransferase 1 (DNMT1). Such aptamers can potentially be used as anti-tumor drugs

Patent Status
Patent Pending
Related Materials