Training Technology for Hearing Improvement
Tech ID: 32074
/ UC Case 2015-253-0
Background
Historically, auditory rehabilitation takes place in an audiology center with supervision of trained professionals and expensive equipment. However, the wide-scale adoption of personal computers, tablets and phones makes accessible high-quality, affordable and easy to use auditory training tools that can be made available to most households or research labs with little to no assistance from trained professionals. This provides opportunity for tools to both better treat and diagnose auditory dysfunction in with a wider reach than ever before. This can benefit both understanding and treatment in a way that can benefit people of many different populations, including those have been been historically underserved.

Brief Description
Dr. Aaron Seitz and his colleagues from the University of California, Riverside have designed Listen, a tablet-based application developed for the purpose of improving auditory functions. Listen integrates principles of perceptual learning and auditory neuroscience in a reward-based game framework that reinforces program adherence and maintains training efficacy. In the game experience, players find themselves in control of a wisp that must navigate through perilous obstacles by responding appropriately to specific sound cues in order to absorb energy from objects in the environment.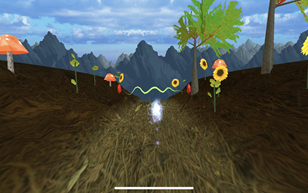 Fig 1: Game image from the mobile auditory training application Listen
Design
The Brain Game Center's in-house programmers designed the coding in the application, using artwork created by UCR. Listen was designed to be played by all ages and has been used by college students, older adults, and people with hearing loss.
Suggested uses
Designed for people of all ages
Works on Apple and Android devices
Compatible with mobile phones, tablets, and desktop computers

Patent Status
United States Of America
Published Application
20170116886
04/27/2017
2015-253
Related Materials