Training Technology for Vision Improvement
Tech ID: 32073
/ UC Case 2011-183-0
Background
Over 100 million people worldwide suffer from visual impairments that cannot be corrected by surgery, contact lenses or eyeglasses. Our knowledge of the world is derived from our perceptions, and naturally relies on our ability to process sensory information. The lack of appropriate approaches to treat brain-based aspects of low-vision deficits is a serious problem since in many cases a component of the individual's low-vision is related to suboptimal brain processing.
Brief Description
Dr. Aaron Seitz and his colleagues from the University of California, Riverside have developed a vision tablet-based application that aims to improve sensory and perceptual skills. Sightseeing has been used among a wide variety of populations (e.g., athletes, patients with schizophrenia, children with autism spectrum disorder, college students, and much more). Sensory and perceptual benefits from the application includes observed improvements in visual acuity (i.e., ability to read lower lines on a standard eye chart), contrast sensitivity (i.e., ability to see objects in low light conditions), and peripheral acuity and contrast thresholds. This technology showcases psychophysical designs that enable understanding of mechanisms of perceptual learning and has great potential both as a scientific tool and as therapy to help improve vision.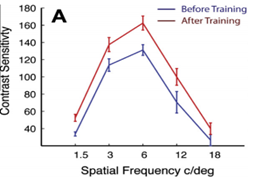 Fig 1: Contrast sensitivity function. Average CSF on pretest (blue) and posttest (red) for experimental group

Suggested uses
As a scientific tool and as a form of therapy to help improve vision
Beneficial for children with dyslexia and lazy eye, athletes or radiologists, people with traumatic injury, or age-related issues.

Patent Status
United States Of America
Published Application
20120094263
04/19/2012
2011-183
Related Materials