Plants Resistant to Fungal Disease
Tech ID: 31720
/ UC Case 2013-816-0
Background
Botrytis cineria, better known as gray mold, is a fungal disease that infects more than 200 plant species. It alone infects almost all vegetable and fruit crops and annually causes $10 to $100 billion in losses worldwide. Methods of controlling fungal diseases include fumigating with methyl bromide, and applying fungicides and biological controls. However plants that are genetically resistant to gray mold and that do not require additional pest control methods are desirable.

Brief Description
University of California, Riverside researcher Prof. Hailing Jin and her colleagues have developed plants that are resistant to Botrytis cineria. These plants are genetically engineered to silence fungal pathogens that transfer "virulent" small RNA effectors to the plant that cause disease. This has led to the development of plants that are resistant to Botrytis cineria.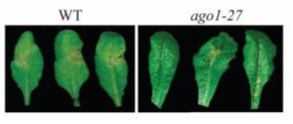 Fig. 1 shows that transgenic plants exhibited reduced disease susceptility to Botrytis cineria when compared with the wild type.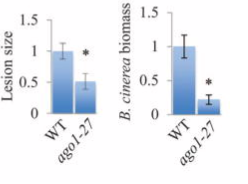 Fig. 2 shows that lesion size and fungal biomass of at least 20 leaves were reduced in the transgenic plant when compared to the wild type. Measurements were take at 96 hours after exposure to Botrytis cineria.
Suggested uses
This technology may be used to develop crops that are resistant to Botrytis cineria and that do not require fungicides or biological controls.

Patent Status
United States Of America
Issued Patent
10,119,148
11/06/2018
2013-816
United States Of America
Published Application
20190078116
03/14/2019
2013-816
Related Materials