Early Diagnosis and Treatment for Citrus Greening Disease
Tech ID: 29708
/ UC Case 2011-403-0
Background
Citrus greening disease also known as Huanglongbing disease (HLB), has no known cure and causes citrus crop damage worldwide. Management of this disease is expensive and has resulted in annual losses of approximately $1.2 billion dollars in the state of Florida alone. This disease is caused by the gram negative bacteria Candidatius Liberibacter (Ca. L.) and its vector is the Asian citrus psyllid.
Current strategies of HLB management include control of the psyllid vectors, identification and removal of infected trees and the use of pathogen-tested citrus nursery stocks for replants and new orchards. A kit for the early detection and subsequent treatment to prevent the spread of HLB is desirable in citrus orchards.

Brief Description
University of California, Riverside researcher, Prof. Hailing Jin, has shown that several citrus small RNAs are induced upon infection by Candidatius Liberibacter asiaticus (Las). These miRNAs and siRNAs would enable the early diagnosis of HLB in citrus trees and nursery stocks.
In addition to the identification of the miRNA biomarker, Prof. Jin also discovered that treating Las infected trees with phosphorus oxyanion improved fruit production. These studies of the improvement in yield in HLB infected citrus was demonstrated in a 3-year field trial in Florida.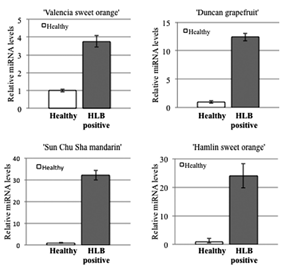 Fig. 1 shows the relative expression levels of miRNA399 in HLB infected citrus. Infected trees express high levels of miRNA 399.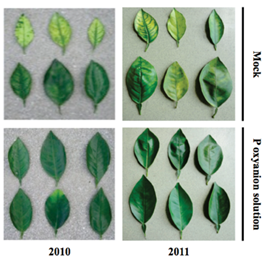 Fig. 2 shows leaves from trees that did or did not receive phosphorus oxyanion treatment over a one year period. Leaves treated with phosphorus oxyanion are healthier than leaves from untreated trees.
Suggested uses
Early diagnosis and treatment of citrus greening disease

Patent Status
United States Of America
Issued Patent
9,758,836
09/12/2017
2011-403
Additional Patent Pending
Related Materials