Human Resistin for the Treatment of Sepsis
Tech ID: 29029
/ UC Case 2016-672-0
Background
An estimated 750,000 people in the US are diagnosed with sepsis and the annual costs for treating sepsis in hospitals was $23 billion in 2013. Sepsis is not directly caused by an infection but by the body's overwhelming immune response to the infection. The subsequent immune response often destroys tissue, causes organ failure and may result in death. The incidence in sepsis is rising, and the mortality rate remains high, reaching 30-40% in patients with severe sepsis and 50-60% in those who develop septic shock.

Currently there are no effective treatments that directly target the aggressive immune response that causes sepsis. Given that there is no direct treatment, the standard of care for sepsis at this time is limited to antibiotics and supportive care. Thus new and effective therapies for sepsis are desirable.

Brief Description
Prof. Meera Nair and her colleagues at UCR have discovered that human resistin may be used as a therapy to treat sepsis. Using a transgenic mouse model expressing human resistin, researchers showed that mice expressing resistin had a 80-100% rate of survival from a sepsis-like infection when compared to wildtype mice with the same infection. The researchers also found that human resistin decreased the number of pro-inflammatory and Th1 cytokines. Through immunoprecipitation assays, human resistin was found to bind to TLR-4 thus blocking the TLR-4 signaling in immune and inflammatory cells.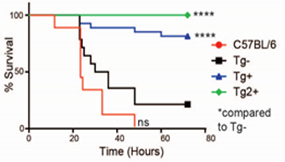 Fig. 1 shows the survival curves for four different mouse models exposed to a sepsis like infection. The red line represents wild type C57BL/6 mice and none of these mice survived the infection. The black line is the background mouse model without the transgene incorporated into its genome. The Tg+ and Tg2+ are two different transgenic mouse models expressing human resistin.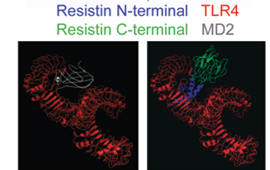 Fig. 2 shows that structural modeling predicts that resistin (green/blue) binds TLR4 (red) and blocks binding LPS co-receptor MD2 (grey)
Suggested uses
Use of human resistin to treat sepsis.
Use of human resistin to modulate inflammation in TLR-4 mediated diseases.
Related Materials
Patent Status
Patent Pending