New Catalysts for Olefin Polymerization
Tech ID: 27590
/ UC Case 2017-670-0
Patent Status
Patent Pending
Background
The polymer industry comprises a large portion of the industrial chemical market. It produces over 160 billion tons of polymer per year and has a market size valued over $413B in 2015. Polymers are used extensively in everyday consumer products such as toys, bottles, bags, etc. Not only are polymers used in materials for consumer products but also in construction and transportation materials.
The addition of polar functional groups to polyolefin plastics enhances their properties. Some of these properties include adhesiveness, wettability and hardness. As a result these polymers with functional groups are used in specialty applications like food and medical packaging.
Brief Description
Prof. Matthew Conley and colleagues at UCR have developed new single-site catalysts for olefin polymerization that are more efficient, active and selective than current catalysts. These catalysts may be used to create polymers with polar functional groups and to form polymers with tunable molecular weights, microstructures, and polydispersities. These catalysts are incorporated onto an inorganic support so that they may be used in gas-slurry processes which are used for the large scale industrial scale-up of polymers.

Fig. 1 shows that methyl 10-undeconoate under 45 psi ethylene is copolymerized using catalysts [2][SZO300]/[2][SZO300]. The resulting copolymer has a low molecular weight and broad dispersity.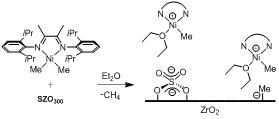 Fig. 2 shows the reaction of (

α-diamine)Ni(Me)2 with partially dehydroxylated sulfated zirconia (SZO300) in diethyl ether results in the formation of the new catalysts [2][SZO300]/[2][MeSZO300].
Applications
Catalysts for the industrial scale-up polymerization of olefins with polar functionalities resulting in tunable, branched, and high molecular weight polymers.
Advantages
Single-site catalysts are incorporated onto an inorganic support so it may be used in gas slurry processes in industrial scale-up applications.
Resulting polymers without functional groups have low dispersity
Resulting polymers with polar functional groups have broad dispersity