Novel Assay to Screen for Antiviral Therapeutics
Tech ID: 27358
/ UC Case 2016-181-0
Background
The antiviral drug market has a total market size of around $74 billion in 2014. This market is estimated to reach the level of nearly $117.6 billion by 2021, resulting in a compound annual growth rate (CAGR) of 6.8%. Currently in order to be effective, antivirals used to treat influenza are required to be administered within 48 hours of the onset of symptoms. To add to the complications of antiviral use, some antivirals exhibit virus resistance. It is desirable to find new antiviral medications that overcome these problems through a new mechanism of action.
Brief Description
Prof. Shou-wei Ding and colleagues at UCR have developed three different assays to screen for a new class of antiviral therapies. RNA interference (RNAi) directs antiviral innate immunity by producing virus-derived siRNAs (vsiRNAs). These assays screen for compounds that may be used to inhibit the activity of a distinct group of viral proteins known as viral suppressors of RNAi (VSRs) essential for virus infection. The various assays may use Drosophila, rodent or human somatic cells. These same assays may also be used to identify new VSRs.
Images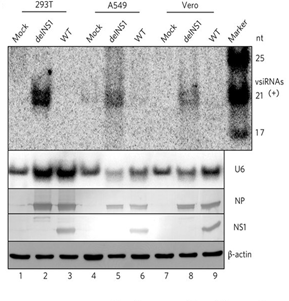 Fig. 1 shows 293T, A549 and Vero cells infected with either wildtype (WT) or mutant influenza A virus with the VSR, NS1, deleted (delNS1). Cells infected with mutant virus produced vsiRNAs needed for antiviral RNAi against influenza A virus.
Suggested uses
Assays to screen for new antivirals
Assays to identify new VSR genes that may be inhibited by new antivirals
Patent Status
United States Of America
Issued Patent
9,481,886
11/01/2016
2002-289
United States Of America
Published Application
20170028051
02/02/2017
2013-522
Additional Patent Pending
Related Materials