Immunogenic Peptides as Vaccines against Herpes Simplex Virus
Tech ID: 24268
/ UC Case 2014-219-0
Brief Description
Immunogenic peptides isolated from HSV seropositive asymptomatic (ASYMP) individuals induce a CD8+ T cell- dependent protective immunity against herpes virus in a mammal.
Full Description
Individuals that carry Herpes Simplex Virus type 1 (HSV-1) and/or Herpes Simplex Virus type 2 (HSV-2) can be symptomatic (SYMP) and suffer a wide range of HSV conditions on a recurrent basis throughout their lives. There is no cure for HSV infection. Clinically effective treatments for the inhibition of HSV infection and/or amelioration of HSV conditions are needed.
Researchers at UC Irvine identified the epitopes from the ASYMP individuals by the genome-based bioinformatics searches and the prediction algorithms. Peptides that were synthesized based on the corresponding epitopes bound to HLA-A*02:01 molecules with high affinity. Immunization of these peptides induced CD8+ T cells–dependent protective immunity against ocular herpes infection and disease in "humanized" HLA-A*02:01 transgenic mice. These findings should guide the development of a safe and effective T-cell-based herpes vaccine
The following figure is a plot of the percent survival of SYMP, ASYMP, and MOCK group mice.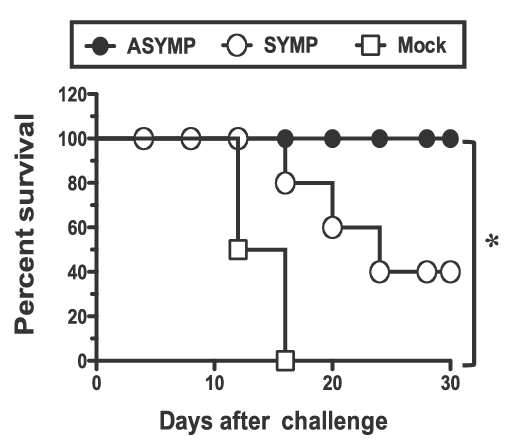 Suggested uses
The information of ASYMP epitopes and synthesized peptides based on them can be used to develop HSV vaccine.
Advantages
In the mice model, the ASYMP epitopes:
Decreased ocular herpes disease,
Decreased virus replication
Protected against lethal ocular herpes
Patent Status
United States Of America
Issued Patent
9,878,033
01/30/2018
2014-219
Related Materials