Plant Extracts as Anti-Cancer Agents
Tech ID: 23908
/ UC Case 2013-289-0
Background
Limited oxygen supply, termed hypoxia, plays a major role in the pathobiology of cells. Hypoxia pathways are associated with various human disorders, including resistance to chemotherapy in hypoxic cancer cells, inflammatory diseases, and vascular diseases. The transcription factors HIF (Hypoxia Inducible Factors) are the response elements to changes in cellular oxygen level. UCI investigators have demonstrated certain extracts of the Carica papaya plant are able to inhibit HIF and are toxic to hypoxic cancer cells. Although HIF-inhibitory drugs have been approved by the FDA for clinical use, these drugs have undesirable side effects. Therefore, identification of factors that inhibit HIF and have reduced side effects is needed.
Technology Description
Researchers at UCI have discovered that certain extracts of C. papaya leaves have a potent inhibitory effect on HIF. One disease area affected by HIF inhibition is cancer. To demonstrate the extract's potency and specificity to hypoxic cancer cells, human osteosarcoma cells were treated in vitro under normal or hypoxic conditions with the C. papaya extracts. IC50 values of the extracts were 3-fold lower under hypoxic conditions when compared to normal oxygen conditions (See figure). Based on this specificity, adverse side effects and general toxicity of non-target cells would be minimized.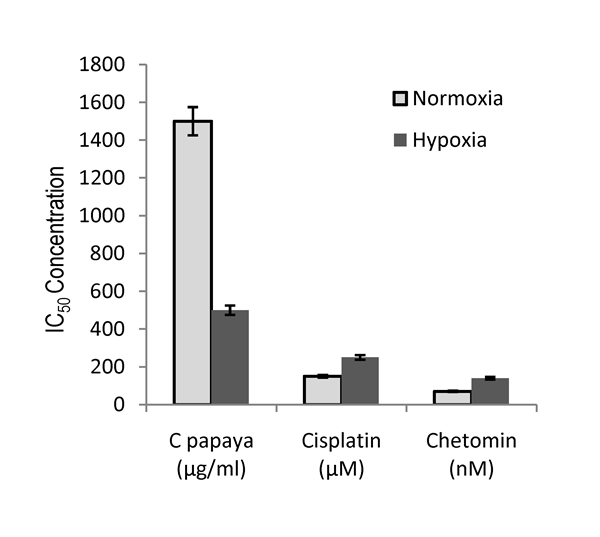 Future Development Plans
Researchers continue to refine the extract
Features/Benefits
Useful for the treatment of diseases that are associated with hypoxia including inflammatory diseases, vascular diseases, cancer, and infectious disease.
Extracts specifically target HIF in hypoxic cells with no effect on normoxic cells.
Extract could be used as a treatment for cancer cells resistant to chemotherapy
Patent Status
United States Of America
Issued Patent
10,004,775
06/26/2018
2013-289
United States Of America
Issued Patent
9,789,144
10/17/2017
2013-289
Publications
"Hypoxia affects cellular responses to plant extracts" J. Ethnopharmacol. 2012 Nov 21; 144(2):453-6. http://www.ncbi.nlm.nih.gov/pubmed/23022321