Vesosome: A Versatile Multi-Compartment Structure For Targeted Drug Delivery
Tech ID: 19353
/ UC Case 1997-024-0
Brief Description
An extremely versatile drug delivery system composed by a lipid-bilayer vesicle.
Background
Vesicles of lipid bilayers are useful structures for drug delivery. The permeation rate, membrane charge, specific recognition particles, steric stabilizers, membrane rigidity, and phase transition temperatures all play a role in optimization of vesicles for particular delivery applications. Currently, vesicle design is restricted by conflicts among these properties, forcing trade-offs in the design of vesicle delivery systems.
Description
Researchers at the University of California have constructed vesosomes by aggregating lipid-bilayer vesicles using biotin-streptavidin complexation and then encapsulating these aggregates in a larger lipid bilayer using the same molecular-recognition technique. These multi-compartment vesosomes offer a versatile means for designing delivery systems because they can distribute often incompatible attributes among the various membranes. Interior vesicle sizes range from 20-500 nm and vesosome sizes range from about 0.1 micron to greater than 1.0 micron.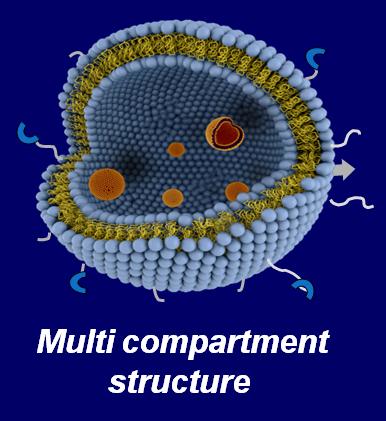 Advantages
The vesosome's multi-vesicle and self-assembly properties permit:
Division of incompatible membrane properties among the various membranes, allowing the possibility for sophisticated drug-delivery schemes
Optimization of bilayer composition and aggregate size at each step of the self-assembly process.
Applications
Extremely versatile drug delivery systems
The technology is available for licensing.
Related Materials
Patent Status
United States Of America
Issued Patent
6,221,401
04/24/2001
1997-024