Efficient Production of 14C-Vitamin B12 for Human Microdosing and Other Applications
Tech ID: 11306
/ UC Case 2005-050-0
Abstract
Efficient Production of 14C-Vitamin B12 for Human Microdosing and Other Applications
Full Description
A novel and an efficient method for producing isotopically-labeled forms of vitamin B12 (cobalamins) has been developed by scientists at the University of California, Davis. This invention is coupled to the development of a new set of clinical and diagnostic technologies related to vitamin B12 deficiency and metabolism.
Determination of 57Co-B12 is not particularly sensitive or quantitative (i.e., The Schilling Test). In addition, the half-life of 57Co makes it expensive to handle and dispose of properly and radiation dosage exposure to workers, patients, and environment is significant.
Our new method overcomes the problems associated with the Schilling Test by using 14C-B12 as the label.

Images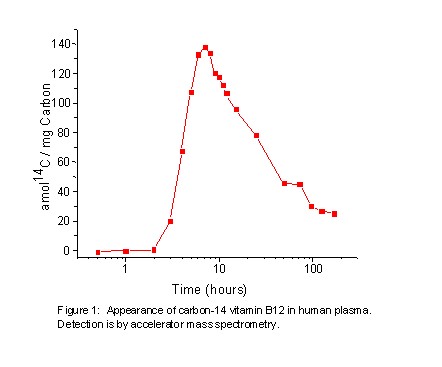 Appearance of carbon-14 Vitamin B12 in human plasma. Detection is by mass spectrometry
Features/Benefits
The key novel features of this method are:
Microscale but scalable: This method has produced, in a 50mL reaction vessel, enough 14C-B12 to microdose 20 to 40 human subjects. It could, however, easily be scaled up if required.
Efficient: The process typically yields purified material in as little as 72 hours. It produces very little radioactive waste.
Sensitive Detection: Abundance of 14C in biological materials (blood, urine, saliva) can be determined at high sensitivity in extremely small volumes of biological material using accelerator mass spectrometry.
Safety: High sensitivity enables the use of nanocurie doses of 14C-cobalamin in human assays. This resolves safety and disposal issues that were connected to the use of 57Co-Schilling technology.
Specificity: The method of microbial synthesis of 14C-labelled cobalamin ensures incorporation of the label into a specific carbon atom of cobalamin only.
Patent Status
United States Of America
Issued Patent
8,202,507
06/19/2012
2005-050