Assay for Chronic Wound Biofilm Disruptors
Tech ID: 31647
/ UC Case 2019-124-0
Background
Chronic wounds are a major global health problem. The formation of biofilms in chronic wounds significantly increases the difficulties for the treatment of such wounds. Under the protection of a wound's biofilm, the bacteria and fungi become tolerant and resistant to antibiotics and the body's immune system. Each chronic wound has its unique microbiome and a way to diagnose how well a patient will respond to a specific antibiotic or therapy to treat their chronic wound is desirable.

Brief Description
Dr. Manuela Martins-Green's UCR laboratory has developed a new assay to identify medicines that disrupt chronic wound biofilms in patients. A patient's wound biofilm is collected with a sterile swab and the bacteria collected from the swab are cultured and identified. The bacteria are then used singly or in combination, to make a biofilm in 96 well plates to then be used for high throughput screening using a multitude of antibiotics, chemical and small molecules that may be tested alone or in combination for their ability to disperse the wound's biofilm.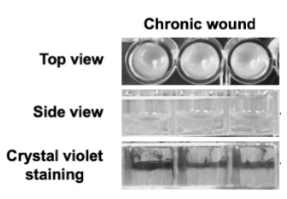 Fig. 1 shows the biofilm cultures from chronic wound patient isolates. The biofilm is made more easily visible by staining with crystal violet.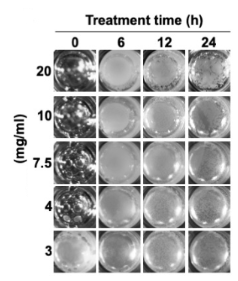 Fig. 2 Different concentrations of an antimicrobial drug ranging from 3 to 20 mg/ml were applied at 0, 6, 12, and 24 hours after the biofilm cultures were initiated. When applied at time zero the bacteria will not grow or form biofilm. This is akin to application after debridement. When applied after the biofilm has been formed it will dismantle the biofilm when used at the right concentrations. Akin to treating without debridement.
Applications
This new screening method will allow for the personalized care of patients and the specific medical treatment needed to disperse their chronic wound biofilm.
The medicines identified will improve patient care by providing targeted therapies and decreasing costs and suffering.
This method would decrease antibiotic resistance since it would avoid the over-prescription of antibiotics in chronic wound patients.

Patent Status
Patent Pending