Magneto-Optic Nanocrystalline Oxides Fabrication
Tech ID: 29030
/ UC Case 2011-052-0
Background
Magneto-optical materials have widespread applications in communication and optical devices. Besides existing applications such as optical diodes, untapped potential applications could be accessed should magneto-optical properties be improved such that smaller magnetic fields can be employed. Ideally magneto-optic materials should be optically transparent. This requires a material with an extremely high packing density and small grain sizes. Unfortunately, conventional fabrication methods cannot achieve the aforementioned requirements.

Brief Description
Researchers at the University of California, Riverside developed a fabrication technique that is capable of manufacturing highly transparent Magneto-optic oxides with reduced processing times. Their technique employs CAPAD (current activated, pressure assisted densification). Briefly, rare earth material in powder form is exposed to a specific current, which heats the sample (below melting temp). Pressure is then applied to the powder, compressing it into the desired shape. The processing temperature is optimized in order to achieve sufficient density without causing excessive phase changes that would destroy light transparency. This process produces materials quickly (<20 min), which, combined with high magneto-optical properties, promises less expensive, smaller, more portable magneto-optical devices.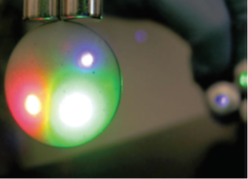 Fig. 1 Top image is a schematic cross-section of the CAPAD apparatus. The bottom image displays a Dy2O3 (dysprosium oxide) sample processed using this method. The sample is suspended from a magnet. Lasers of various wavelengths still transmit through the sample This indicates that the desired magnetic/optical properties of the material have been preserved.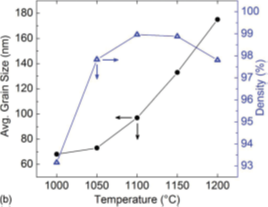 Fig. 2 Graph of measured average grain size and density of Dy2O3 samples versus processing temperature. The graph shows that an ideal processing temperature is 1100˚C, providing the highest packing density and smallest grain sizes.
Suggested uses
Laser-system components
Optical integrated circuits/ optical data storage systems

Related Materials
Patent Status
United States Of America
Issued Patent
8,641,995
02/04/2014
2011-052