Three-Dimensional Reconstruction of Cardiac Flows Based on Multi-Planar Velocity / Multi-Plane Method for Three-Dimensional Particle Image Velocimetry
Tech ID: 25224
/ UC Case 2013-642-2
Brief Description
Measurement of three-dimensional (3D) flow field inside cardiac chambers has proven to be a challenging task. Researchers at UC Irvine have developed a multi-planar velocity reconstruction approach that is able to characterize 3D incompressible flows based on the reconstruction of 2D velocity fields.
Full Description
Blood flow pattern is indicative of cardiac performance. Each type of heart disease has unique blood flow characteristics and variations in blood flow pattern may indicate changes in cardiac performance. Therefore it is of interest to be able to characterize 3D flow inside the cardiac chambers. The current method used to characterize and quantify blood flow information is obtained via echocardiography, and is limited to two-dimensional (2D) blood flow information. This method is unable to acquire 3D flow patterns with sufficient spatial and temporal resolution for improved clinical diagnosis due to the limited frame rate of 3D echocardiographic acquisitions.
Researchers at UC Irvine have overcome this limitation by reconstructing 2D velocity data to yield quantitative, real-time 3D flow fields inside the heart. This method is based on multi-planar particle image velocimetry (MPPIV), and involves measuring 2D perpendicular velocity fields using ultrasound imaging.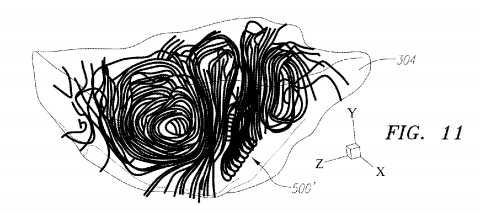 Figure 11. The 3D divergence-free interpolated velocity field inside the right ventricle model is shown during early diastole. The streamlines illustrate the jet and the vortex around it.
Suggested uses
This invention can be used to monitor and assess 3D blood flow within the heart chambers. This can yield quantitative real time information to characterize heart health.
Advantages
This invention allows for real time quantification of 3D fluid flow inside the heart in a clinical setting.
Patent Status
United States Of America
Issued Patent
10,345,132
07/09/2019
2013-642