Brief Description
The current state of art does not provide a satisfactory way to restore hearing without one or more of the following disadvantages; feedback, occlusion effects, easily visible, stigma, invasive surgery, expensive and/or surgery for removal. Thus, there exists a desire for a device which overcomes one or more of the aforementioned drawbacks
Full Description
Conventional hearing aids rely in amplification of sound to improve hearing. This approach has several disadvantages such as occlusion effects, feedback, blatant visibility, and stigma. Alternatives to conventional hearing aids include semi-implantable, implantable, or fully implantable middle ear transducer. While these alternatives address the previously describes issues, they are invasive and cost prohibitive.
Researchers at UC Irvine have invented a hearing device to overcome the aforementioned drawbacks. The invented hearing device is a small, wearable device that is placed deep into the ear canal. The device receives sound via a microphone and an actuator converts the sound into mechanical energy output that in turn drives the ossicular chain.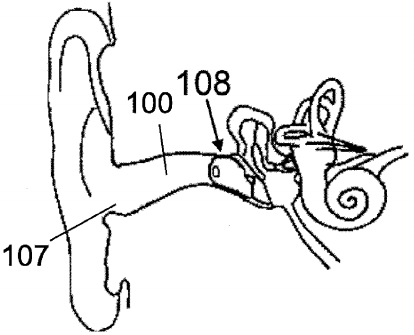 Figure 1 illustrates placement of the wearable device (108) inside the ear canal.
On the other hand, the hearing aid device can be designed to occlude the ear canal and block natural sounds from reaching the tympanic membrane, and therefore can be used as a communication device in noisy environments. Another device would drive the tympanic membrane in this instance.
Like hearing aids, this invention is placed deep into the ear canal. Surgery is not required, so this device has reduced cost, easy accessibility, and easy placement and removal.
Suggested uses
This invention operates as a hearing aid or a communication device.
Advantages
Compared to current solutions for hearing loss, this technology can provide reduced cost, easy accessibility, easy placement and removal, and reduced visibility.
Patent Status
United States Of America
Issued Patent
8,885,860
11/11/2014
2010-033