Polymer-Metal Organic Framework (MOF) Hybrid Materials
Tech ID: 25126
/ UC Case 2015-230-0
Background
Materials with defined pores and high surface are utilized in a number of industrial applications such as gas sorption, catalysis and drug delivery. Because of their extraordinary surface area, developing these types of materials with MOFs is desirable but has proved challenging to manufacture consistently. A need still exists for a method to make such materials with high porosity and hydrophobicity that is straightforward and reproducible.
Technology Description
Researchers at UCSD have developed a method that produces novel MOF-polymer hybrid materials that combine the advantages of each in one material without requiring post-synthetic modifications. This is the first reported MOF-hybrid material prepared by a bottom-up synthesis using an amorphous polymer as a building block. The resulting hybrid material was demonstrated both high porosity and hydrophobicity with a Langmuir surface area of approx. 1000m2/g. Varying polymer ligands and annealing temperatures resulted in diverse morphologies ranging from spherical structures to crystalline films.
Prototype materials have been made, characterized and tested by a variety of approaches, confirming that these materials have a 3D framework in which 1D chain polymers are fused.
RESULTS
Space-filling model of hybrid polymer-MOF materials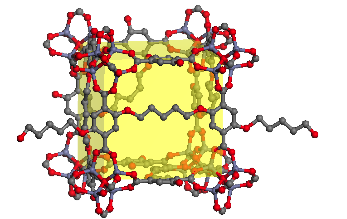 Related Materials
Patent Status
United States Of America
Issued Patent
10,201,803
02/12/2019
2015-230