Combinatorial Treatment to Protect Crops from Nematode Damage
Tech ID: 21124
/ UC Case 2006-113-0
Background
Worldwide crop losses due to plant-parasitic nematodes have been estimated at $80 billion annually. Severe infestations with root-knot or cyst nematodes can result in yield losses of 10% to 50%. Current pest management options, such as soil fumigation or use of non-fumigant nematicides are costly, limited by regulatory restrictions and may have adverse environmental and health impacts.

Seed coatings with bacterial metabolites of a Streptomyces species, abamectin have proven to protect roots of young seedlings against various plant-parasitic nematodes effectively. However, the protection against nematode root invasion only lasts for a short period. Using fungal hyperparasites that target female nematodes is another specific and effective method of suppressing nematode populations, but often this method is too slow for protecting young seedling roots. In a combination treatment abamectin mitigates the early root attack and damage by mobile nematodes stages while giving the fungal biocontrol agent Pochonia chlamydosporia time to establish in the root zone, ready to parasitize developing females and their eggs
Brief Description
Dr. J. Ole Becker at UCR developed a method for improving plant health and reducing nematode infestations by coating seeds with abamectin, a biorational nematicide and using it in combination with biocontrol agents. Cucumber growth was optimized when the seeds were coated with abamectin and grown in root-knot nematode-infested soil treated with Pochonia chlamydosporia, compared to the non-treated check or single treatments with either (Fig. 1). In a tomato microplot field trial, the combination significantly reduced root galling despite high disease pressure (Fig. 2). This invention encompasses the use of one or more types of pesticides, including fungicides and nematicides, and other species of biocontrol agents. The combinatorial approach allows targeted and precise pest management that promotes plant health and suppresses plant-parasitic nematode populations.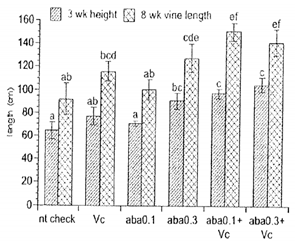 Fig. 1 Cucumber growth responses to single and combination treatments with P. chlamydosporia (Vc) and abamectin seed coatings (aba) in soil infested with root-knot nematodes (Meloidogyne incognita).
Fig. 2 Effect of single and combination treatments with P. chlamydosporia (VC) and tomato seed coating with abamectin (Avicta) in a microplot field trial infested with root-knot nematodes (Meloidogyne incognita).
Applications
Agricultural and horticultural management of nematodes
Improving plant health for seedlings and transplants

Patent Status
United States Of America
Published Application
20100034792
02/11/2010
2006-113