Polymer-Carbon Nanotube Gel as a New Cathode Material For Enhanced Performance
Tech ID: 21006 / UC Case 2010-654-0
Background
Lithium-Ion Batteries (LIBs) have been commonly applied in consumer electronics, especially for portable electronics. LIBs have unique properties such as low energy-to-weight ratios and slow loss of charge when not in use, etc., thus there is a growing demand for their use in national defense, electrical vehicles and medical devices. LIB technology has been actively pursued by researchers to improve the performance in energy density, durability, cost, and safety.
Despite enormous potential, the use of LIBs is still limited by its lack of complementary cathode material with high discharge and charge rates. The promising use of lightweight polymer gels has been explored, due to their unique network structure and properties such as allowing more transition metal incorporation to achieve higher percentages electroactive sites, and providing shorter diffusion distance for Li+ ions to electroactive sites to facilitate Li+ ion's attachment and detachment during charging and discharging.
Description
A researcher at the University of California, Merced has developed a new type of cathode material to be used for LIBs. The material, as shown in figure 1 below, is composed of multi-walled carbon nanotubes covalently bound with a polymer gel matrix, in which redox centers are embedded.
The new cathode material is lighter with higher content of cathode material. It may potentially provide more than 300mAh/g energy density based on the theoretical calculation. The polymer gel like structures allows facile Li+ ion insertion/extraction, yielding higher power density. Multi-walled carbon nanotubes enhance electron transport thus improving energy conversion efficiency. No lattice morphing occurs during charging and discharging cycles. As a result, cycle life is expected to be improved.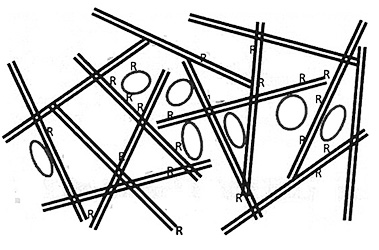 FIGURE 1—UC Merced cathode material with redox centers embedded in a polymer gel matrix that is covalently bound to multi-walled carbon nanotubes.
Applications
The broad potential applications include:
portable devices: wireless communication de, portable computer, camera, portable power drills, saws and vacuum cleaners;
electrical traction: hybrid and electric vehicles and provide backup for wind and solar energy; and
medical devices: lasting and smaller batteries for powering implantable devices such as defibrillators and implantable hearing assist devices; and the new breed of nerve micro stimulators.
Advantages
The UC Merced innovative polymer-carbon nanotube gel for LIB cathode materials simultaneously provides:
high energy density;
high power rate;
enhanced life cycle; and
flexible cathode material.
Patent Status
Patent Pending
Other Information
Keywords
lithium ion batteries, carbon nanotubes, polymer gels, cathode materials
ADDITIONAL TECHNOLOGIES BY THESE INVENTORS
PEOPLE WHO VIEWED THIS ALSO VIEWED THESE TECHNOLOGIES BY OTHER INVENTORS