Improved Ceramics And Ceramic Composites
Tech ID: 10295 / UC Case 2005-510-0
DESCRIPTION
The University of California has a number of inventions in the field of ceramics and ceramics composites that are available for commercial licensing. These technologies include:
SLIDESHOW PRESENTATION: More information about this invention portfolio is available in a slideshow presentation that can be downloaded from http://patron.ucop.edu/ncd/docs/ceramics.pps (4.1 MB). This file includes an audio narration and web links to non-confidential descriptions, issued patents, related publications, and inventor profiles.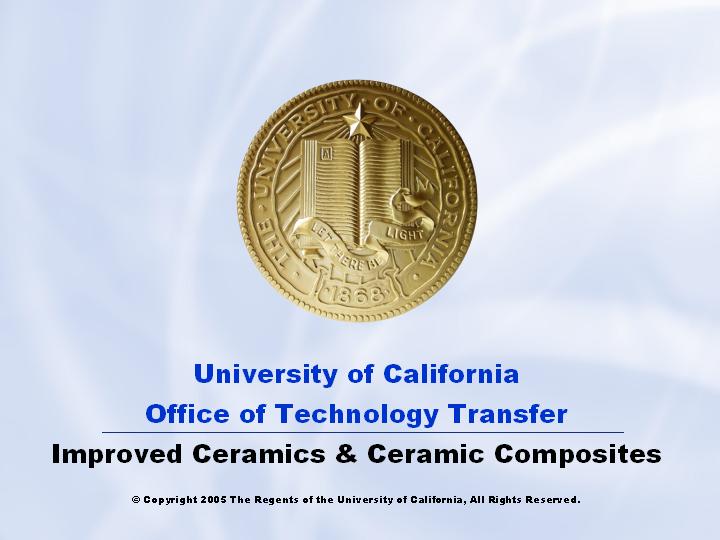 Patent Status
Country
Type
Number
Dated
Case
United States Of America
Issued Patent
8,609,565
12/17/2013
2005-510
United States Of America
Issued Patent
7,601,403
10/13/2009
2005-510
Inventors
Anselmi-Tamburini, Umberto
Garay, Javier E.
Kim, Sangtae
Martin, Manfred
Munir, Zuhair A.
ADDITIONAL TECHNOLOGIES BY THESE INVENTORS
PEOPLE WHO VIEWED THIS ALSO VIEWED THESE TECHNOLOGIES BY OTHER INVENTORS